How Soon Is Now?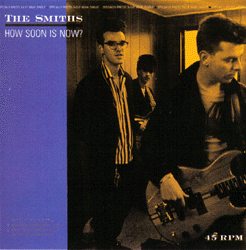 Artist: The Smiths
Album: B-Side to 12" Single "William, It Was Really Nothing" then the compilation album
Hatful of Hollow
Label: Rough Trade
Year: 1985
Producer: John Porter
Studio: Jam Studios, London
Notes: The rhythm guitar intro offers tremolo in sixteenth note time, and a sound that The Smiths' fans spot from five miles away — an iconic sound.

Originally created using the tremolo channel in a Fender Twin Reverb guitar amp, it might more easily be created today using a gate or a compressor, and feeding a sixteenth note click track into the side chain.

Have a listen at Spotify.
---
---
Here's a nice tribute, with clues on how to do it yourself.
httpv://youtu.be/SeE4mjS1BKM
---