The Ballad of Peter Pumpkinhead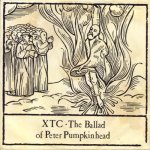 Artist: XTC
Album: Nonsuch
Label: Virgin
Year: 1992
Producer: Gus Dudgeon
Engineer: Barry Hammond (record)
Nick Davis (mix)
Studio: Chipping Norton Studios, Oxfordshire, England (record)
Rockfield Studios, Monmouth, South Wales (mix)
Notes:

Gate
Gated snare hypes the sound, making it larger than life -- fun, but not overdone. This is a fundamental signal processing gesture to be mastered.

This gated snare, unmistakable in its unnaturalness, is still rather restrained when compared to the over-the-top sound defined in the early 80s: the first ever gated snare in the deliberately odd Intruder, by Peter Gabriel, and the iconic In The Air Tonight by Phil Collins.

Please note, over-the-top is not the only option. Tame the effect -- even slightly -- as in this XTC mix, or make it even more subliminal, a sonic layer tucked-in and slightly augmenting the sound of the snare wires as they clatter along on the resonant head of the snare drum.

Chorus
The intro: electric guitar. Plug it in. Play…with lush chorus effect.

Echo
Using echo to emphasize a word, or orchestrate a crescendo, is an essential part of pop craft. It is nicely demonstrated in this work. An echo, kicking a reverb, makes the tune soar at about 4:05. a decoration focusing on the last word in the phrase , "...and an awful lot like ME!"
(see also "...told the TRUTH!" at 1:59, and "..any kind of love is ALRIGHT" at 3:02).
---