Born in the U.S.A.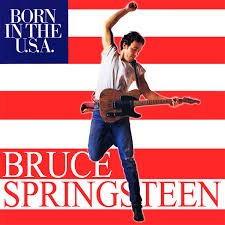 Artist: Bruce Springsteen
Album: Born in the U.S.A.
Label: Columbia Records
Year: 1984
Producer: Jon Landau, Chuck Plotkin, Bruce Springsteen, Steve Van Zandt
Engineer: Bob Clearmountain, Toby Scott
Studio: The Power Station (now Avatar)
Notes:

Gated Reverb
One of the greatest larger-than-life snare sounds. The explosive timbre begins with drummer Max Weinberg -- his technique, musicality, and well-tuned kit. The studio gets involved with a heavy hand -- strong dose of EMT 140 plate reverb through a Kepex Gate, augmented by the acoustic sound of Power Station Studio A (now Avatar).
It's a distinct mid-80s species in the evolution of gated snare sounds that began in 1980, and was made wildly famous a year later.
---