Don't Do Me Like That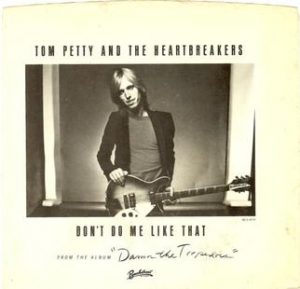 Artist: Tom Petty and the Heartbreakers
Album: Damn the Torpedoes
Label: Virgin
Year: 1979
Producer: Jimmy Iovine, Tom Petty
Engineer: Shelly Yakus
Studio: Sound City Studios, Cherokee Studio, Los Angeles
Notes:

Pitch Shift:
Engineer Shelly Yakus fabricate a high harmony vocal in each chorus by pitch shifting Tom Petty's lead vocal by a fixed interval of a Perfect Fourth using an Eventide H910, the first commercially available digital pitch shifter. It's on the lyrics that form the title: "Don't do me like that."
The Eventide H910 used on this Tom Petty track was the first digital pitch shifter made commercially available (1974).

It made it's first appearance in a record on David Bowie Low.  Have a listen to the snare in Sound and Vision, and you're hearing history.

---