Alex U. Case Bio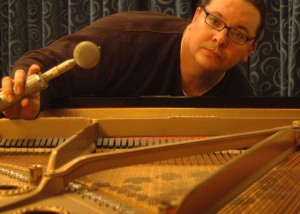 Alex U. Case is an Associate Professor of Sound Recording Technology at the University of Massachusetts Lowell. With degrees in Mechanical Engineering, Music, and Acoustics, Professor Case has dedicated his professional life to the study of aesthetics, perception, signal processing, electro-acoustics and room acoustics for the creation and enjoyment of sound recordings.
His research and professional activities focus on the technical foundations, creative motivations, and aesthetic merits of recording and signal processing techniques used in multitrack production. Case is a widely published author, with over 100 articles appearing in multiple journals and industry trade publications. He has authored two titles for Focal Press. Mix Smart – Pro Audio Tips for Your Multitrack Mix details actionable strategies for finding success in one of audio's greatest challenges:  multitrack mixing. Sound FX – Unlocking the Creative Potential of Recording Studio Effects is the authoritative guide to audio signal processing in multitrack production.  Case is also a contributor to the Grove Dictionary of American Music, 2nd Edition, Oxford University Press.  Beyond print publications, Case is an author for lynda.com's online training library, contributing to their Audio Channel with courses on Reverb and Delay.
Case is an educator in great demand. In addition to his full time undergraduate and graduate teaching, Case has given many invited lectures and master classes on audio, acoustics, and education, across the U.S. at Berklee College of Music, Brigham Young University, Brown University, Boston University, Emerson College, Tribeca-Flashpoint Academy, The Peabody Institute of the Johns Hopkins University, Middle Tennessee State University, New England Institute of Art, New England School of Communications, New York University, Penn State, Ramapo College of New Jersey, Rensselaer Polytechnic Institute, University of Hartford, Webster University, and internationally at institutions including the Banff Centre for the Arts in Canada, Fermatta Academy of Music in Mexico City, Luleå University of Technology in Sweden, McGill University in Montreal, SAE Institutes in Milan and Paris, the Shanghai Conservatory of Music in China, Queen Mary University of London, and Queen's University Belfast.
Case is active in the two professional societies central to his research. A Fellow and Past President of the Audio Engineering Society, he is Chair of the Membership Committee, and serves the Education Committee (past chair) and the Technical Committee for Recording Technology and Practice.  Past service includes the Awards Committee and the Convention Planning Committees for New York and San Francisco. He has been a featured speaker and panelist for multiple regional meetings, and instructed several standing-room only tutorials at AES International Conventions in Europe and North America. Professor Case is a Fellow of the Acoustical Society of America where he is a frequent presenter of papers and chair of special sessions.  He serves the Technical Committee on Architectural Acoustics (past chair), Technical Committee on Noise, Membership Committee, and Publication Policy Committee.
---