Phonograph Patented: February 19, 1878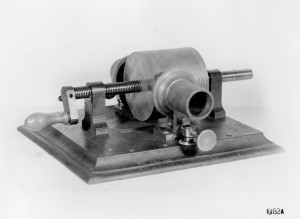 Edison's Tin Foil Recorder earned its patent 135 years ago, today.  As he wrote in the North American Review, "The Phonograph and Its Future," it's uses will be many:
"Among the more important may be mentioned: Letter-writing, and other forms of dictation books, education, reader, music, family record; and such electrotype applications as books, musical-boxes, toys, clocks, advertising and signaling apparatus, speeches, etc., etc."
Yes, music was at least part of the vision from the beginning.  Have a listen to a small band, simultaneously tracked to a digital audio workstation, and a wax cylinder recorder.
---
---
---