The Recorded Sound of Spring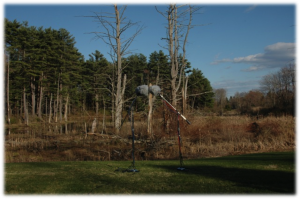 We know it's spring in New England, because we hear about it.  The birds have returned with much to say, and the Spring Peeper Frogs sing their chorus every night.  Have a listen to the frogs, recorded with spaced omnis in four configurations.
A single omni captures a monophonic recording of the peepers.
Spaced omnis, 1 ft apart.
Spaced omnis 9 ft apart.
Spaced omnis 36 ft apart.
---