Advanced Reverb Videos Added at Lynda.com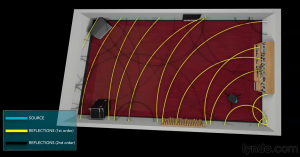 We've just released 4 new movies covering two Advanced Reverb Topics:  Chambers and Convolution. They are an added part of the existing course, Foundations of Audio: Reverb.  As always, the talented team at lynda.com has created crisp, informative, and beautiful graphics to illustrate these two essential concepts.
Chambers

Interested to set-up your own Chamber Reverb?  Two new videos cover the architecture and the audio to help you find the right space, choose the right gear, and get the best sound out of your own chamber.
Convolution

Not sure what convolution is and what it's strengths and weaknesses are?  Two more videos demystify convolution so you can apply this amazing signal processing technique in your sessions with more confidence.
Foundations of Audio: Reverb just got richer, and it now digs deeper.
If you are a lynda.com subscriber, go check it out.  The videos are available now.
Not a lynda.com subscriber?  What are you waiting for?
---