Remembering Patti Page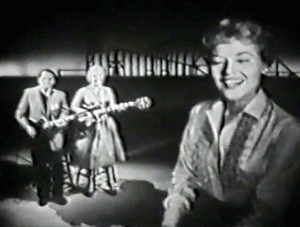 The first artist to commercially release a vocal overdub passed away on 1 Jan 2013, at the age of 85, and we've been looking for the keys to the Wayback Machine to honor her ever since.  The Internet Archive has this treat, The Patti Page Oldsmobile Show from 12 November 1958 — a show consisting entirely of musical performances.
Special guests on this particular Wednesday evening included none other than Les Paul and Mary Ford, some other Recordingology Innovators.  We are introduced to them with a bit of late 50s scandal at 3:05, and they do two numbers, beginning at 8:26.  See and hear them here on actual Gibson Les Paul electric guitars.  Patti joins in on the second tune doing her own stunt on a camera crane.  Car commercials pepper the show at 6:45 and 18:45.  Lower your noise floor, stretch your attention span, and rewind the tape to 1958.
---