For the Love of Money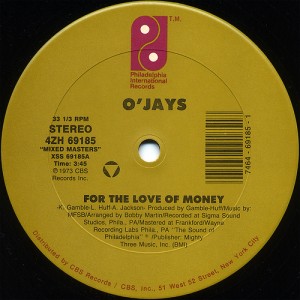 Artist: The O'Jays
Album: Ship Ahoy
Label: Philadelphia International Records
Year: 1973
Producer: Gamble and Huff
Engineer: Joe Tarsia
Studio: Sigma Sound Studios, Philadelphia
Notes:
Echo -
Slap echo makes the opening bass line distinct enough to announce the tune, an effect recognizable from the first note decades later.

Flanging/Phasing -
That same bass line, and the high-hat, and the cymbal crashes, all reveal a 70s-inspired heavy dose of a short delay effect, in the flanging/phasing family.

Time Reversal -
Reverse reverb is added to the Background Vocals, morphing the voices of the O'Jays into a psychedelic synth texture suitable for the time. It also does a nice job making the tune pop out of the loudspeakers.
---