First Digital Pitch Shifter

Notes:

1974
The Eventide H910 Harmonizer

first: Digital Pitch Shifter, and -- more importantly -- the first Multi-FX unit,
offering opportunities beyond the stock processes of the time: filters, delays, reverbs, etc.

For this to happen, audio had to be digitized; it can't be done in the analog domain. While digital Audio Compact Discs wouldn't hit stores until 1982, digital devices snuck into recording studios in the mid-70s. Digital reverb and digital delay lines were a thrilling addition to the effects racks, but were somewhat expected -- digital versions of analog and acoustic predecessors.
The Eventide H910 Harmonizer, however, was a bit of a surprise. Recordingologists know this effect's first sonic appearance in pop music occurs on David Bowie's album Low, which inspires our close look and listen to Sound and Vision.
As the good folks at Eventide show us in their video below, the sound of this device immediately changed the sound of pop music, grabbing the attention of producers and engineers:

Tony Bongiovi, Michael Brauer, Roy Cicala, Jimmie Douglass, Brian Eno, Flood, Roy Hendrickson, Kevin Killen, Tony Platt, Susan Rogers, Tony Visconti, Shelly Yakus

for artists like:

AC/DC, David Bowie, John Lennon, Tom Petty and the Heartbreakers, Prince, Slave, Patti Smith Group, U2, Suzanne Vega

generating multiple effects, such as:

fabricating new harmonies, new timbres, de-tuning, spreading, thickening, and more.
What's in a name like the H910?
Tony Agnello, the inventor of the Eventide H910 Harmonizer, shares his inspiration for naming the device.
"I was and am a Beatles fan and a fan of John Lennon in particular. I was 15 years old and attending Brooklyn Technical High School when Revolver was released and "Tomorrow Never Knows" made my head spin."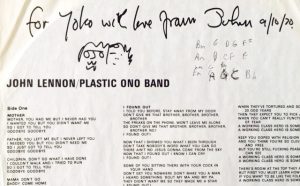 The album John Lennon/Plastic Ono Band has the inscription, "For Yoko with love from John 9/10/70" on the LP liner sleeve, and was in rotation at the time of the product's development.  Lennon's birth day and month (not month and day) spell out the model number of the world's first digital pitch shifter, known also as a harmonizer.
Is the 910 named after a Beatles song, "The One After 909?"  According to Agnello, that's true too.  After the liner note inspiration above, he tells us:
" I liked the sound of 910, plus it evoked the early Beatles song "One After 909". So, H910."
A critical audio signal processor, and it's name, are born.
---
For more history and hilarity on the H910 checkout these three blogs from the inventor himself written during the 50th Anniversary
---
---