First Use of Analog Tape in Professional Audio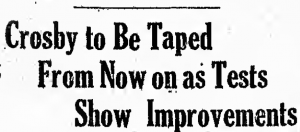 Artist: Bing Crosby
Label: Philco Radio Time on ABC Radio
Year: 1947
Notes:

FX First
The first use of analog tape in professional audio was heard by listeners on October 1, 1947, with the Philco Radio Time broadcast of Bing Crosby's 30 minute variety show. This was the beginning of Season Two, and it followed a search for better audio quality begun with Season One. Season One was recorded to acetate disks, but the sound quality was noticeably inferior to actual live broadcast, much to the disappointment of the audience and the broadcasters. The solution was found by using tape instead of disk recording (see below), and history was made.

Distortion
There's understandable tape saturation distortion audible when levels get pushed hard on this first use of tape.
Before tape was part of the consumer's hi-fi system, and before tape was in the music recording studio, two German-made tape machines were put to use preparing Bing's show for broadcast. 


Pick-up your Oct 1, 1947 issue of Variety and you'll read,

"Tests were made for Crosby by the Palmer Co. of San Francisco, which has possession of the only two German-made tape recorders in this country, as well as a limited supply of German tape. These machines and tape are being used."

They cut the show to both acetate and tape and did a comparison.

"Decision to switch permanently to the tape was reached following comparative tests by Crosby Enterprises in Hollywood and by ABC engineers in New York."

It was a success, as a Variety review the following week called it "a socko triumph" over the prior season's acetate format.  I believe 'socko' is 1947-speak for really, really good.
---