Can't You Hear Me Knocking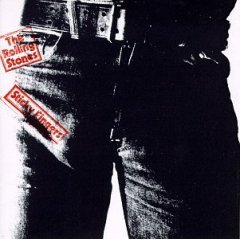 Artist: Rolling Stones
Album: Sticky Fingers
Label: Rolling Stones
Year: 1971
Producer: Jimmy Miller
Engineer: Glyn Johns, Andy Johns
Studio: Olympic Studios, London, UK
Notes:

Distortion:
Keith Richards plays his Les Paul Custom Black Beauty with exquisite distortion, in open G tuning, for the iconic opening riff, panned hard right. This is very much in contrast to Mick Taylor's clean tone from his walnut brown Gibson ES-345 on both rhythm and -- later -- lead, panned hard left. It's Neumann U-67s on the amps, either Fender Twins or Ampeg VT-22s.
This distortion glows with harmonics only tubes can generate, but does so expressively. When Keith digs in harder, the distortion increases along with him. His playing is characteristically dynamic -- from loud and intense, to soft and restrained, with exaggerated articulation and lots of spaces between notes and figures. Those expressive performance details are matched by a distortion that breaths along with him. It's not 'all distortion, all the time,' but rather it is distortion with it's own dynamic motion, moving in and out of more and less distortion along with the music.

Reverb:
That is tasty, iconic plate reverb decorating the snare and the background harmonies. Note that the reverb isn't particularly audible on the first two snare hits, but floats in on the second bar of drums, along with the entrance of the bass. The arrangement unfolds in pieces, with an organic angularity that is a signature of the band. It teases the listener with instruments entering one at a time: the riff, the kit, bass, lead vocal, rhythm guitar, and -- at last -- harmony vocals on the title line we've all been waiting for. Why not let the reverb be a small part of the build and anticipation for the song's ultimate hook about hand percussion on a door, can't you hear me knocking?
---