Mix Smart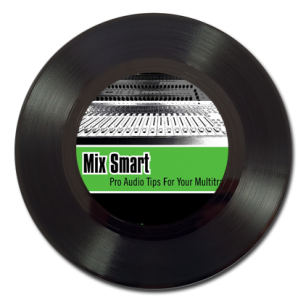 Learn:  Strategies, not recipes
Follow:  Intuition, not superstition
Explore: Creation, not memorization
Achieve:  Inspiration, not imitation
Complete Table of Contents for "Mix Smart"
Sample Chapter from "Mix Smart"
Are you ready to Mix? After you've recorded the perfect song, you're only halfway there! Mixing is where the magic really happens and getting the perfect mix is the ultimate audio challenge. One of the most illusive arts of the recording practice, mixing can take a lifetime to master – this handbook jump-starts your skills and fast-forwards your progress!
Breaking the mix down by different effects – EQ, distortion, compression, expansion, pitch shift, delay, reverb, and more – and applying them to some of the most important instruments in pop music, Mix Smart will arm you with the expertise and techniques you need to tap into your musicality and express it through multitrack mixing, putting true professional quality mixing within your reach.
The Mix Smart system shows you how to make coordinated use of every piece of gear in your studio so that you can Fix problematic areas, Fit all those tracks together, and Feature the parts of the music that really make the tune sing
The Case Credo – the Ten Commandments of Mixing Smart
Future proof, ear-opening strategies will empower your inner-musician, giving you the knowledge you need to develop your mixing skills – from basic to advanced
Breaks the mix down by different effects, with detailed strategies for the most important pop instruments, showing you how to create that perfect sound
Mix Smart Quick Start summaries at the beginning of each chapter get you to work faster
Demystifies the technical, making the tools of the mix rig accessible

analog and digital
outboard and in the box
stereo and surround

For everyone who mixes – studio, live, music, film, games, and broadcast
The recording studio is your musical instrument, and it's time you really learned how to play. Alex Case shows you not just how to mix well, but how to Mix Smart!
---